Book travel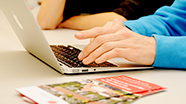 You will find all the information you need here, from booking plane tickets with the BCD-Travel travel agency through to reserving tickets online and at a discount with the Deutschen Bahn AG (German national rail system) and booking hotel rooms using the hotel reservation system (HRS).
Booking through a travel agency
Thanks to an agreement with the travel agency BDC Travel Germany GmbH, you enjoy a number of advantages when you travel. Using a service number set up specifically for members of the University, you can contact qualified BCD advisors who can help you with all of your travel questions. You will need to register to use this service.
For more information, please send an email to reisen.uhh"AT"uni-hamburg.de.
Booking a hotel through HRS
Are you looking for the right hotel for your next trip? This won't be a problem thanks to an agreement with HRS–HOTEL RESERVATION SERVICE.
There are 250,000 hotels the world over from which to choose, and all of them offer the lowest room rates. And booking with HRS couldn't be easier. In just three steps, you can find and reserve the right room. Confirmation follows immediately.
The HRS reservation team is available around the clock, seven days a week on +49 221 2077 600.
The advantages at a glance:
free online booking and immediate confirmation
guaranteed availability of rooms at advertised rates
online cancellation and changes online
extensive choice of hotels around the world
very low rates
How does it work?
Anleitungen
Direct bookings for hotels with a discount agreement
The information below is to be used exclusively for official purposes. Distributing or private use of this stored data is strictly prohibited.
Traveling with Deutsche Bahn (the national rail service)
Travel with Deutsche Bahn (DB) can be booked in various ways:
Individual online booking
You can purchase tickets online at bahn.de. Payment processing fees charged by DB may be reimbursed on travel expense claims.
In addition to paying by credit card, registered DB customers can also pay by direct debit.
Individual booking in a DB Travel Centre or a travel agency offering DB services
If you book a ticket through a DB Travel Centre or at a travel agency offering DB services (e.g., for group tickets), you will need to provide a customer account number for Universität Hamburg, and service fees will be charged. You can find the Universität Hamburg customer account number along with information on booking group tickets in the information sheet on rail travel with DB: Merkblatt Bahnfahrten (PDF).
Rail ticket purchase with corporate credit cards at DB ticket machines or in DB Travel Centres
For many years, the DB business traveler procedure has allowed corporate customers to identify themselves via their personal corporate credit card at DB ticket machines or in DB Travel Centres and thus access their bahn.business tariffs (FKI procedure).
Unfortunately, due to requirements of the Payment Card Industry Data Security Standard, PCI DSS, this procedure can no longer be offered in its current form and must be discontinued at the end of 2020.
Alternatively, you can still purchase bahn.business tickets in the DB Navigator (with corporate customer login).
Booking a ticket (one-way ticket) via the Work-Related Travel Team
Please provide us with your travel details using the form for booking DB tickets via the Work-Related Travel Team: Fahrkartenbestellung Deutsche Bahn über Team Dienstreisen (PDF). Once the ticket has been booked, you will receive it via email. This only applies to work-related travel (no private extensions and/or detours).
Registering
Booking online
What you should also know
Downloads